TGIF! For some reason, this week has gone by so slow, and I am ready for the weekend! To make your Friday a little bit better, one lucky reader will win a $50 Gift Card to J. Crew, Nordstrom, or Target from one of my favorite bloggers, Sasha from
Moilogy
! [I am seriously
obsessed
with her style!!] If you haven't checked out her blog already, make sure you do, and then scroll down to enter the giveaway!
Hi Fashion Flirtation readers!
My name is Sasha. I'm the voice behind food & style blog,
Moiology.
I'm so excited to be apart of Victoria's cute blog today.
She asked me to do a mini introduction of myself, so here it is:
I'm an analyst by day, foodie at night, and a style blogger in between.
I've been married to my husband for 5 years. We have a sweet little cockapoo named Luna; she is our baby.
I'm originally from Japan. I came to the states for college 9 years ago and I currently reside in Utah with my husband.
I started
Moiology
because I needed a personal blog that showcased my style for a columnist position I applied for a Japanese magazine. This blog of mine was never created with an intention to inspire other people. It was just for me. Just for the position I applied for. Over the past year, it's become a huge part of my life. I've met so many wonderful people through this crazy blogging world, and I hope I get to meet some of you too!
*MUST BE A FOLLOWER OF FASHION FLIRTATION VIA BLOGLOVIN*
Don't forget to enter into the
$200 White Plum
giveaway that ends on Monday, and thanks so much for reading!!
Oh, and I was featured on
Friday's Five
linkup this week! Make sure you head on over and link up your latest post!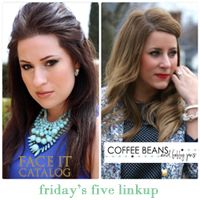 xoxo,